the good life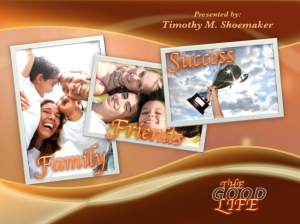 Click Play to hear Tim describe this Keynote!
Here is the Music Player. You need to installl flash player to show this cool thing!
The Good Life is a 60 minute school assembly that has been called "life changing" and "a game changer" by school officials. Students are raving, parents are applauding and teachers are taking pride in the passion they've created within their schools.
What's so different about this program? A spectacularly rare combination of the right message, from the right person, in the right way makes this a one-in-a-million presentation. Tim's uniquely engaging program captivates students from the moment the curtain is drawn. Harrowing stories of his poignant police encounters, join moving personal asides to create a very rare, but instantaneous rapport. Timely humor, audience participation and lively music keep students excited and on task. Most importantly, a steady stream of potent and revealing wisdom speaks to students on a very intimate level.
"You have no idea how strong of an impact you made. More kids need to see this. Thank you. Thank you!" -High School Student, Sharon Springs NY
The Good Life is a character education program that fits perfectly within wellness campaigns such as Red Ribbon Week, Respect Week, Anti-Bullying Events and Prom Season Prevention Initiatives. With blocks on leadership, sensitivity, goal setting, health & wellness, and consequential decision making skills, the Good Life reinforces and reignites many of your in-house efforts.
Drawing from over a decade of experience inside middle and high school student environments, Tim knows how to connect with kids. Rather than lecture or instruct, Tim leads students on a journey of self-exploration, inviting them to find and strengthen powerful attributes within themselves. Post delivery feedback from both students and parents has demonstrated a profound and lasting impact on certain students.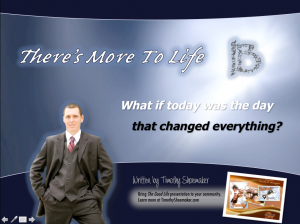 The Good Life also lends itself to sustained impact upon your student body. Tim's ebook and audiobook, "There's More To Life", was specifically written to help students refresh and build upon the concepts discussed in The Good Life. Available either for private purchase, or distribution through your school server, this 35 page thriller comes complete with interactive elements and classroom-type exercises. It can even be used by life skills staff as an accompaniment to their existing curriculum.
Students can also choose to connect to Tim's well-tailored facebook page, specifically created for kids, where they receive a steady supply of inspiration and character education messages.
WANT MORE INFO? Click here to download a PDF Program Description of The Good Life Presentation!