Raising Drug Free Teens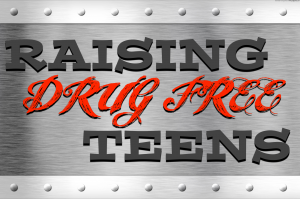 Some secrets were not meant to be kept. This absolutely riveting 90 minute parent / staff seminar should be required viewing for every parent and every person that is gifted with a role that is influential upon children.
After poignantly exposing the seriousness of the threats facing today's teens, Tim explosively uncovers the critical secrets known to help protect them. Raising Drug Free Teens empowers parents and staff members with the information they need to build a brighter future.
Can you imagine what it would be like to have a nationally recognized prevention expert travel directly to your community, bringing the absolute latest research-based and street-proven intelligence right to your doorstep? Included with that education is the unique opportunity to experience a one-of-a-kind, twenty-foot long, multi-thousand dollar display of all the latest drug paraphernalia, concealment devices and testing countermeasures. All that knowledge is now at your fingertips, and will be delivered in a way that poignantly and candidly translates this complicated subject matter into instantly actionable techniques. It's the right person, delivering the right message, in exactly the right way. That's the wish-list we were given and that's exactly what we will deliver to your community.
In the next 24-hours, more Americans will die from drug overdoses, than from car crashes. Multiple states have recently declared "States of Emergency" due to nothing more than drug addiction and related deaths. Use rates are skyrocketing, and so are the associated costs and consequences of recreational drug experimentation. This issue is far worse than it has ever been, for any other group of parents or educators. It appears ominous and complicated, but it doesn't have to. We can turn concern, into competency, and help your community address one of the most pressing topics of modern-day parenting.
Tim is an active duty police supervisor, who travels the country networking with parents, school officials and recovery experts. What's more, he's taught thousands of k-12 students in the classroom and is certified in multiple prevention curriculums. He's been diversely immersed in the field for more than twenty years. Tim uses this unique and contemporary experience to address teen substance abuse in a way that few others can. Importantly, Tim is also an accomplished public speaker, keynoting several prominent conferences and delivering more than 150 large audience presentations each year. The difference is instantly palpable and appreciated by those who come to your event.
What prevention messages stick, and what turns kids towards substance abuse? How do you talk to your kids about drugs and what do you want to avoid? How might you be unintentionally influencing your children in the wrong way? How can you inspire your kids to make good decisions in today's pro-drug atmosphere? How can you reliably detect impairment due to drugs and where do you go from there? We've got the answers.
In this impressive 90 minute seminar, Tim empowers each audience member with the knowledge and motivation they need to actually make a significant difference in the lives of those who are important to them. Don't waste another second. Book this highly sought-after seminar (which is a repeat favorite at several professional training conferences), and give a very unique gift to your community.
This is the perfect accompaniment class for any of our in-school assembly programs, and you can save over $1000 by bundling the programs together on the same day! Now booking for next year. Contact today for pricing and availability.